The holidays are coming and with them, the most stressful part of all (except maybe the cooking!): buying presents. Luckily, you can find almost anything on the internet—and we've decided to save you some time by putting together a list of gifts to please that person in your life who just loves languages. If that's you, of course, then make sure you send this post on to someone else—as an innocent hint, of course!
Whatever your hobby, or whatever the hobbies of the people in your life, then it's getting both easier and harder to find gifts that are related to it and will be well-received. Easier because, with the internet, you can find just about anything. 
Harder because, well, who wants to deal with all that choice?
What we've decided to do in this blog post is put together a list of presents that will be perfect for the language lover in your life—without you having to work out which learning materials they've already used or may already own. All of these gifts are little extras that will show the receiver that you care about their hobby and they shouldn't break the bank!
1. Polyglot Mug
Everyone needs a mug, so why not start with this one? From Merriment Clothing Co, an Illinois-based business, we like this cup because it highlights our company values exactly: languages are about connecting with other people. 
Connect with the language learner in your life by purchasing this for just over £11 ($13.99), or you could check out the rest of Merriment Clothing Co's Etsy store, where they also have cute Irish Christmas decorations and Parisian makeup bags! 
2. The Secret Language of Cats

Okay, so this gift might not work for the language learner who's also a dog person (though there may be a few alternatives for them here), but if they like cats, this is perfect! Susanne Schötz shares her cat communication research to help cat owners better understand their feline friends—hopefully leading to an even closer relationship.
3. Happy Christmas T-Shirt

This one might work a little better as a slightly-before-Christmas Christmas present, but it should go down well: provided the person you're giving it to celebrates the holiday, of course! 
Sheffield-based The Perfect Print Company is selling shirts and jumpers that say 'Merry Christmas' in a bunch of different languages, including Spanish, French, and German. Or, if you're looking for something a little different, then get a fun ASL Christmas t-shirt from TerryJordanGB. Could be worth considering for a Christmas Eve box, perhaps?
4. Word Magnets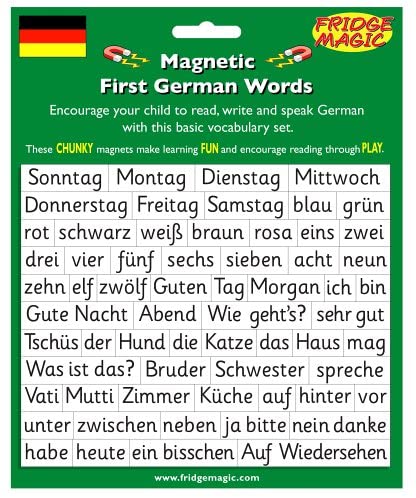 Available in a few different languages (most notably French and German), these word magnets are sure to provide your language lover with a lot of fun. Each set is made up of words and phrases so you can form any kind of sentence you'd like! 
These could also be useful for younger learners to give them some practice forming sentences without being too difficult.
5. Sign Language Mug

Yes, it's another mug, but this one is a little bit more specific. Not On The High Street makes these personalised British Sign Language mugs—all you have to do is send in your name (or the name of the person you're getting it for). Then you'll receive one of these in the post, all ready to go!
This might be especially handy if you don't like other people using your mug or if you just have an interest in sign languages. 
You can also get an ASL version here.

6. Multilingual Shopping Bag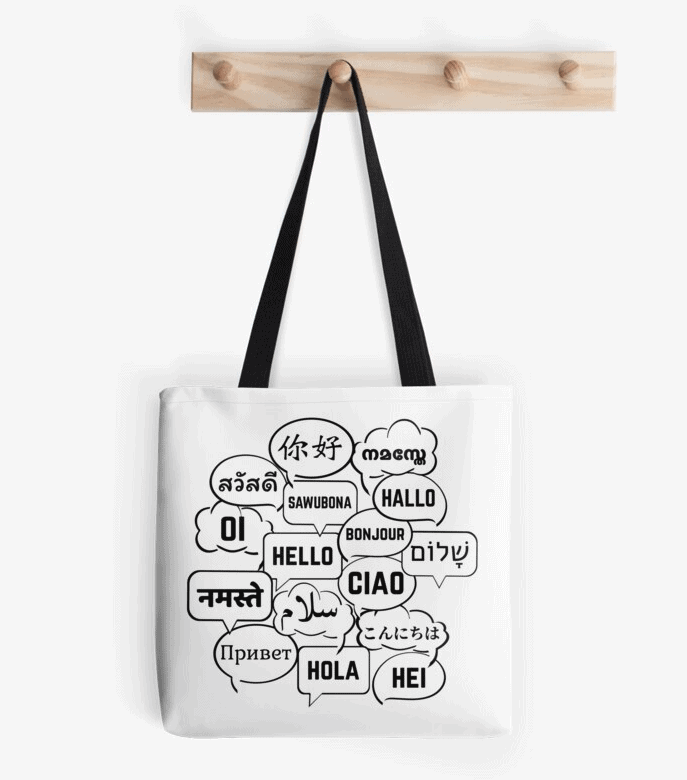 There are plenty of examples of language-related shopping bags out there (try this one, or even this one!) but we thought this multilingual one was the most fun of the bunch. As we keep moving forward, it seems more and more likely that everyone will have to take their own shopping bags with them—so why not have some fun with it?
Plus, it's true, right?
7. 'Teacher' t-shirt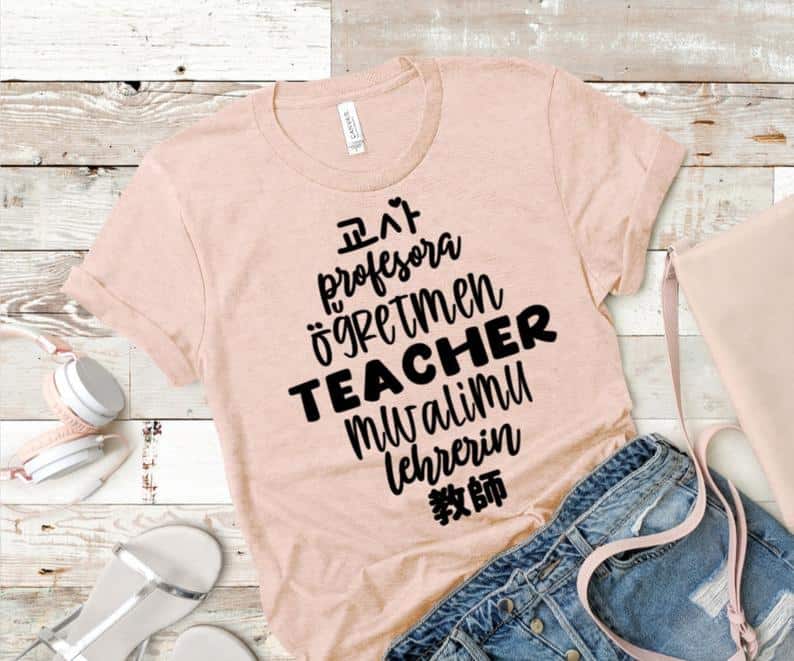 Another t-shirt, sure, but this is a nice one for any teachers in your life. It might even prove to be a vocabulary source for their students!
8. KLOO Cards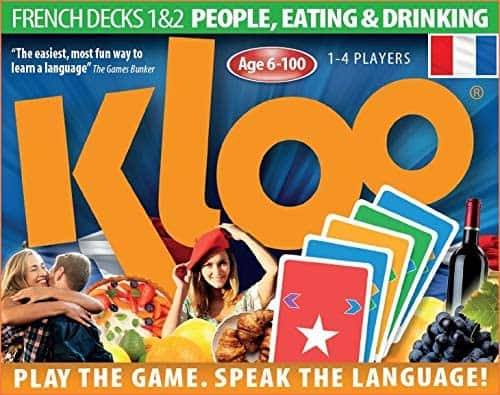 Everyone loves to play games and since a lot of us will be spending a lot more time inside this holiday season, a card game might be the way to go! KLOO helps you to learn a language as you play and they have decks for French, Spanish, and Italian.

9. How to order beer… on a beer glass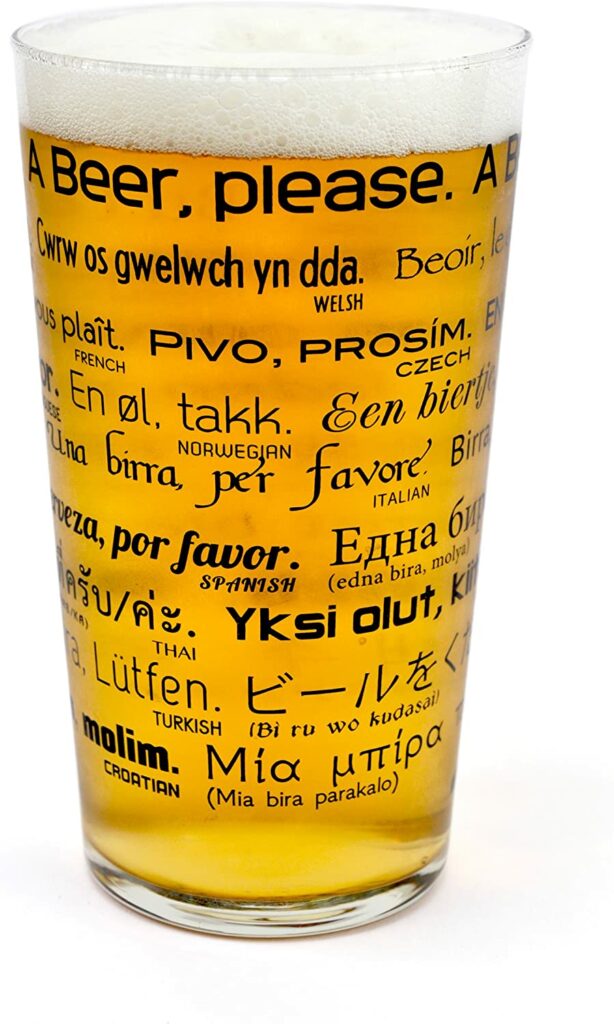 Plenty of people enjoy the odd drink this time of year, so why not buy them something that will be useful in that respect—but will also help them out a little when they travel?
This beer glass comes with 'a beer, please' written on it in twenty-six different languages, giving your recipient the chance to be able to order their beer wherever they go. 
Oh and, if you buy it for yourself… Well, who would know?
10. Give them the gift of a language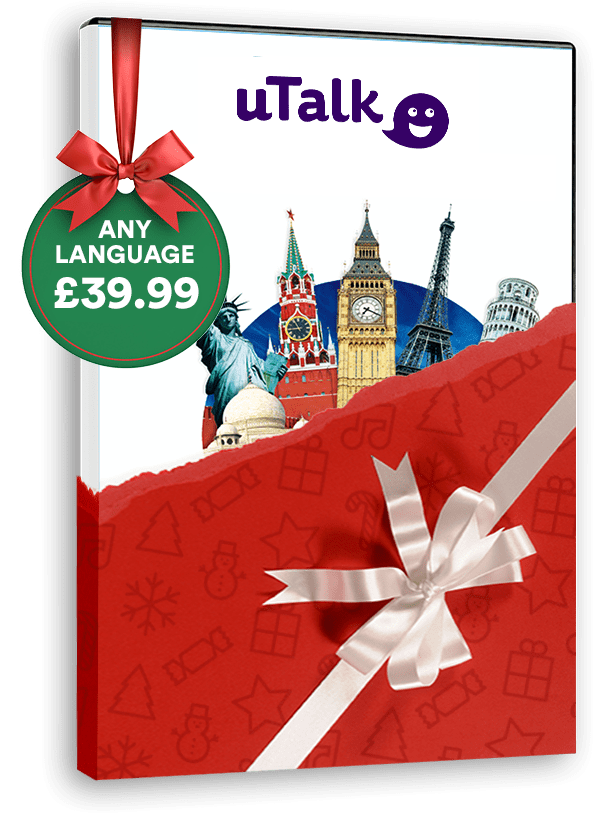 Of course, ultimately, that person in your life that loves learning languages? They kind of want to learn a language.
If they're looking to try something new, or if you want to give them a fun way to learn, then why not buy them a 'Choose Any Language' box from uTalk? In this box, your recipient will get a code, which they can use to download one of the 144 languages we offer to learn. You don't even have to choose for them—taking away some of the stress—and this isn't a subscription; whichever language they pick, they get for life.
They'll also get a uTalk pin badge and a world languages map in the box with their code, so some nice goodies as well! 
Buy the uTalk 'Choose Any Language' box here.
Hopefully, that should give you enough ideas to get on with your Christmas shopping and don't forget to leave a comment if you think there's anything we missed! 
Good luck!