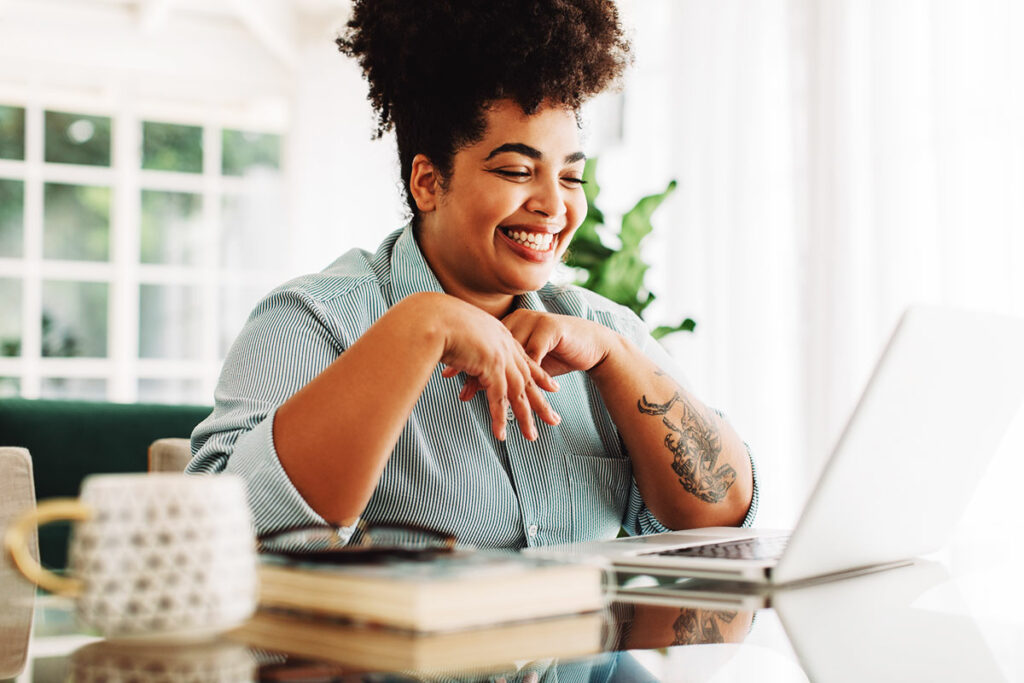 You probably already know that, here at uTalk, we're really into the speaking and listening side of learning languages. That's why we've got all that native speaker audio on our app! But what about when you want to get that all-important practice in? Well, we just might have found a solution.
Odds are, if you're learning a language, it's because you want to communicate in it – however that might come about. And we designed uTalk to help you take that first daunting leap into the unknown, as well as to give you access to useful words and phrases you'll need along the rest of your language learning journey.
Of course, we want you to get talking – that's the whole point! But it can sometimes be difficult to find other people who speak the language you're learning. You'll probably be fine if you're learning a language spoken by millions of people and live in a country where it's spoken, or a big city, or even a place where there happens to be a diaspora who speaks that language too.
Unfortunately, that isn't the case for a lot of us. Even if it is the case for you, finding the right speaking partner is another matter; you have to be very upfront about what you want, for one thing. You're likely going to have to spend half the time using your native language, especially if you're doing a straight exchange. And just because you're with a person who speaks the language you're learning natively or very fluently, it doesn't mean they can explain all the little things you want to learn.
So, what can you do?
Head online! If you're looking for an exchange partner but aren't having any luck in-person, then there are plenty of places to find people who you can then speak with over Zoom, Skype, Discord, WhatsApp…
Okay, but what if you want something more in-depth than that?
Well, there are times when a teacher or tutor definitely comes in handy. Again, there are plenty of places where you can find teachers, but the one you've probably heard of (especially if you've been learning languages for any length of time) is italki.
italki is an online platform that helps you connect with a community tutor or professional teacher in the language you're learning and then take lessons with them. These are one-on-one, and they offer more than 150 languages – just like we do!
Lessons are affordable and customisable; most teachers or tutors will ask you for information in advance of your first lesson, too, so that they can adjust their material and style to your needs.
What's the difference between a professional teacher and a community tutor?
Everyone helping you learn a language on italki has one of two statuses: either they're a professional teacher or they're a community tutor.
Professional teachers have verified training and experience as educators – they have to upload documents proving that as part of their application to teach on the italki platform. The prices for lessons from professional teachers are slightly higher, but they come with resources, prepared materials, and structured lessons to help you achieve your goals.
Community tutors are friendly speakers who know a lot about the language they're teaching and usually help with conversation practice. Still, they too can come with prepared materials; this is especially important when you're looking at some of the languages with fewer teachers, as often the community tutors are used to teaching beginners and will have something ready for you.
How does this work with uTalk?
The lovely folks over at italki kindly gave us credits to try out a few lessons on their platform so we could let you know. We chose languages we'd never learnt before (so we could use uTalk and italki from a beginner's perspective) and I went for Maltese, the only Semitic language spoken in Europe.
Of course, uTalk is a great place to start working on your pronunciation, and I got through the Alphabet and First Words topics before my first lesson. There are only a few tutors for Maltese on italki, but my tutor was friendly and patient, very knowledgable about all the languages she spoke, and helped me go through the alphabet again and get started on a basic conversation. This was lesson one and she was definitely impressed that I'd got a grasp on (most of) the sounds that exist in Maltese but have no equivalent in English, and gave me materials so I could practice what we'd learnt before our next class.
I did a couple more lessons with that tutor before, due to unforeseen circumstances, I had to switch to another. The flexibility that italki offers with regards to this is great. I could plan lessons easily around work and social activities (tutors mark on a calendar when they're available and then you choose a slot that works for you), and when I had to switch there was none of the awkwardness that there might be if I, say, decided I didn't want to see a language partner anymore.
What else was amazing was that my new tutor spoke to me about what I'd already covered, we did a quick refresh, and then we picked up where I'd left off! After every lesson, I'd look for a topic on the uTalk app that covered the same words, or I'd use the Phrasebook to search for other words or phrases related to the ones I'd just learnt.
If you've been using the uTalk app, you'll be well aware that we don't offer any grammar instruction. We want to make the app as accessible as possible, so while you can learn any language from just about any other language, it would be nearly impossible for us to write and stuff all those grammar explanations in there, too.
But sometimes you just need a little bit of grammar, right? You really want to know why a verb's doing that, why a phrase is like this, or if a new sentence you've formed is actually correct.
italki is fantastic for that! Your tutor or teacher will help you learn about grammar and if you come armed with questions, they'll be more than happy to help you find answers. Every tutor I interacted with was friendly and professional; so much so that it feels like you're already making a friend who's going to be great at helping you with your new language.
(Want to find out more about uTalk and italki? Our Languages Manager, Emily, wrote a post that they've kindly put up on their blog. Check it out here: Why uTalk and italki champion rare and remote languages.)
Why not give it a try?
We've partnered with italki to bring you a special offer – if you buy at least $10 in italki credits, you'll get $5 off!
To redeem the offer, when you get to the checkout after selecting the amount of italki credits you want to buy, make sure to enter the code utalk5off like so: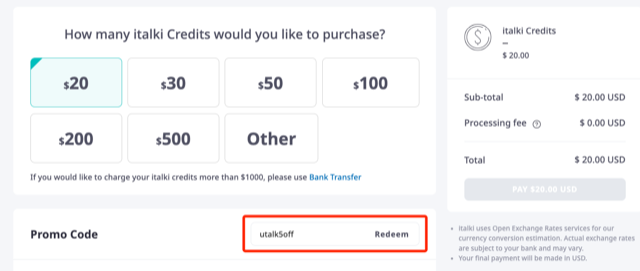 Once you've clicked 'redeem', you'll see the promo code activate and you'll save $5.

Depending on the language you're learning, that's an entire free lesson! Get started by heading over to italki – and happy language learning!