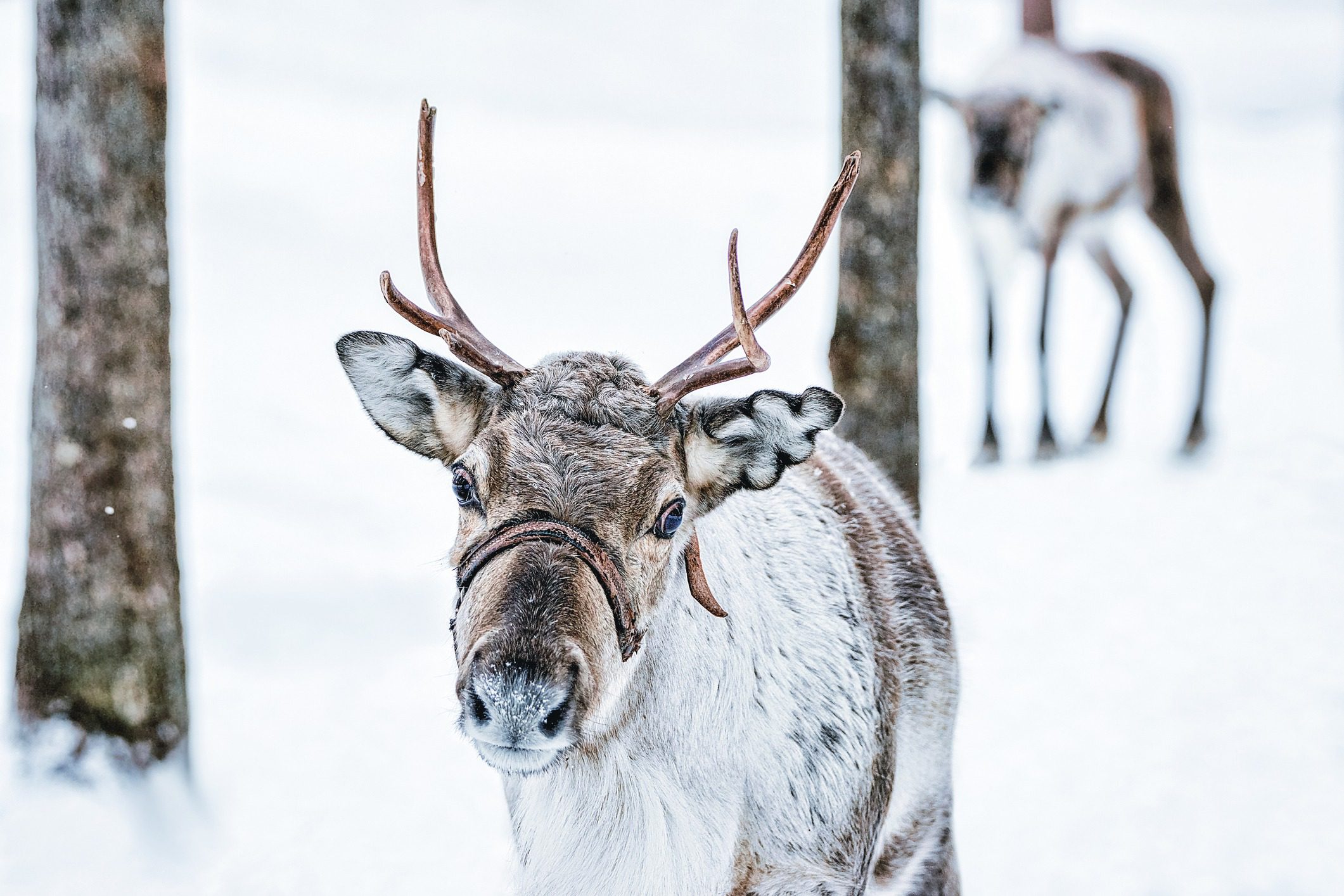 All the reindeer may have laughed and called Rudolph names, but what about the strange names of Donner and Blitzen?
Donner and Blitzen, together with Dasher, Dancer, Prancer, Vixen, Comet, and Cupid, were all named by American writer Clement Clarke Moore in his 1823 poem, 'The Night Before Christmas'.
And the poet originally gave Donner and Blitzen their Dutch equivalent monikers of Dunder and Blixem, which were a popular form of mild swearing in 18th and 19th century New York – equivalent to 'gosh darn'!
Why Dutch?
Well, the poem was set in New York and, until 1664, New York had been a Dutch settlement called New Amsterdam and the language was still widely spoken.
Moore later changed the names to the current German ones – Donner and Blitzen – possibly because they rhymed better with Comet and Vixen.

But the big question which has perplexed many English-speakers for generations is  – what do they mean?
Wisely, the poet named two of Santa's reindeer after the fastest, most powerful things to flash across the night sky; Donner/Dunder means thunder and Blitzen/Blixem means lightning.
What about Rudolph?
Most interestingly of all, the reindeer's name which went down in history nearly wasn't Rudolph.
Back in 1939 Robert L May, a US department store copywriter, was asked by his employer to write a cheery Christmas story, featuring an animal, to give away to customers.
So May, who already knew about Santa's eight-strong team of reindeer from the Clement Clarke Moore poem, 'The Night Before Christmas', decided to add a ninth deer to the tale.
He even began his story with an echo of Clement Clarke Moore's opening words saying 'Twas the day before Christmas…' instead of 'Twas the night before Christmas…'.
But what name would he choose to add to those of Donner and Blitzen, together with Dasher, Dancer, Prancer, Vixen, Comet, and Cupid?
He knew it had to begin with the letter 'R' to go with 'red-nosed' and 'reindeer' but the field was still wide open.
To focus his mind, he wrote out a list of ten possible candidates: Rodney, Roddy, Roderick, Rudolph, Rudy, Rollo, Roland, Reggy, Reginald and Romeo.
And this original list, which he later donated for safekeeping to his former university Dartmouth College in New Hampshire, shows that he circled just two of these names, Rudolph and Reginald.
Yet, despite the name not being circled, Dartmouth College reports that May was originally going to go with the name 'Rollo' before changing it to 'Rudolph' and getting it approved by his bosses.
In a 1963 interview, May explained that he decided Rollo sounded 'too happy for a reindeer with an unhappy problem' and Reginald 'seemed too sophisticated' but Rudolph 'rolled off the tongue nicely'.
He also said that he thought up the idea of giving Rudolph a glowing red nose after staring out of his Chicago office window at the fog from Lake Michigan. The fog, he thought, would make navigation difficult for Santa Claus and so he had the light bulb moment of giving Rudolph his famous nose.
The plot was settled and years later it would inspire the bestselling song about Rudolph who Santa approached one foggy Christmas eve.
But, ironically, when May first came up with the idea for the storyline in 1939, it wasn't initially met with universal acclaim.
His employer, the US retail and catalogue company Montgomery Ward, consulted the opinion of a focus group who warned that a red nose had connotations of alcoholism.
And, according to May himself, his boss said, 'Can't you come up with anything better?'
Despite these setbacks, May managed to convince his employer to back the idea and with the help of one of the company's illustrators made the first draft of Rudolph The Red-Nosed Reindeer.
That Chrismas in 1939, the retailer, which had branches across the US, gave away more than two million free copies of the booklet, which was a roaring success.
So successful in fact that, after wartime restrictions on paper came to an end, another 3.6 million copies were distributed to Montgomery Ward shoppers in 1946.
But May's copywriting success was coupled with sadness. In 1939, at the same time as writing the Rudolph the Red-Nosed Reindeer story, his wife Evelyn lost her battle with cancer and left him a single parent to their then five-year-old daughter Barbara. He was also left with debts from Evelyn's hospital bills which he was still struggling to pay off many years later.
In an act of compassion, the bosses of Montgomery Ward gave him the copyright to the story in 1947 and his fortunes were turned around.
The following year he benefited financially from both audio and printed versions of the story. While in 1948, at May's request, his brother-in-law Johnny Marks wrote the words and music to the famous song 'Rudolph the Red-Nosed Reindeer'. The song, which was released in 1949 and recorded by Gene Autry (nicknamed The Singing Cowboy) became Christmas number one in the US. It also gave worldwide recognition to a reindeer with a very shiny nose and led to a spin-off of Rudolph-related products.
May, who before his death in 1976 worked full-time on Rudolph-related business, remarked that the story was modelled both on 'The Ugly Duckling' tale and on his own experiences of being a shy, small boy who 'had known what it was like to be an underdog'.
He also said that the tale was a 'story of acceptance' which showed that 'tolerance and perseverance can overcome adversity'.
It's a message that's chimed with children and adults worldwide ever since and, as the song says, Rudolph's name will go down in history.
Sweetly, the inscription on May's gravestone in River Grove, Illinois reads 'Robert L May, Father of Rudolph the Red-Nosed Reindeer'.
Where does the word 'reindeer' come from?
The origin of the word 'reindeer' comes from the Old Norse 'hreinn,' for "reindeer." The word can also be traced back to the Germanic verb "rennen", meaning "to run". Fittingly, reindeer can run up to 50 miles (80 km) per hour and travel more than 3,000 miles each year!
---
Looking for some Christmas gifts for the language lover in your life? We've got a great list for you! Or maybe you want to learn how to say 'Father Christmas' in over 100 languages? Check that out here, too!