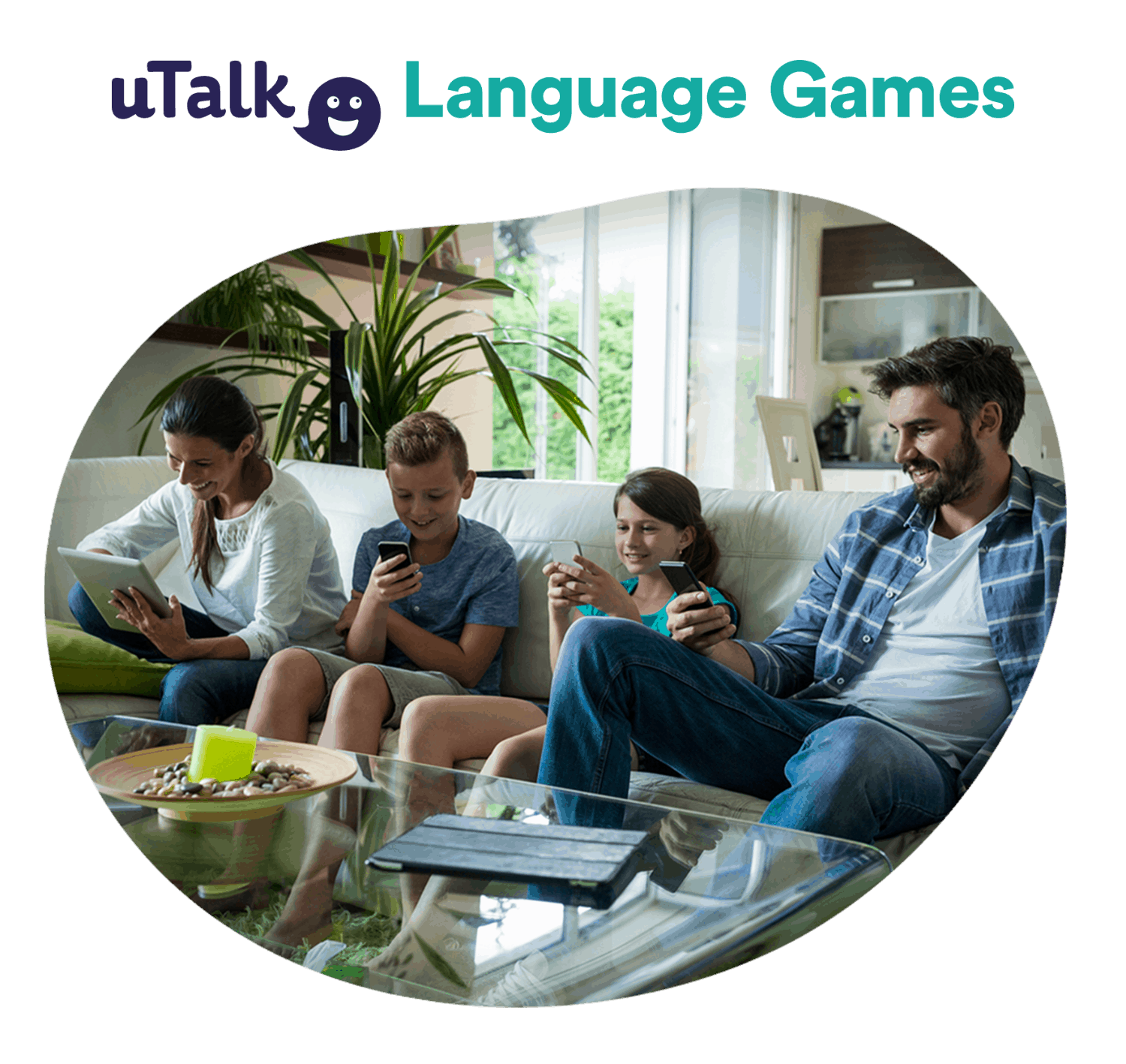 We've been busy beavers here at uTalk for the past week or so, working hard to make sure everything stays running smoothly as we all transferred to working from home. Of course, we didn't forget about any of you! We've also been working on a little special something to help keep you all busy, learning, and having fun for as long as we're all stuck indoors.

At uTalk, we've always tried to be a language learning company that encourages people to make friends. That's especially important at the moment, at least for us here in the UK, where everyone's having to find new, creative ways to spend time with the people they miss but don't live with.

And that's just to talk! Go on any social media site and you'll see people coming up with great new ways to play games together, to go on dates, or even to make their daily conversations a little more exciting than just staring at a monitor.

Between all the social distancing and the fact that a lot of people are finding themselves cut off from their schools and offices and everywhere else they want to go, we've been racking our brains to come up with something that can have you learning a new language but that will also give you the chance to build a new community—or strengthen an existing one.

So, fancy learning a new language with other people? Want to compete, or learn the same language as your friends?

Come join the uTalk Language Games!
Wait, what are the uTalk Language Games?
The Games are our brand-new initiative to help keep everyone learning a new skill—but also entertained—while we're all stuck inside. You'll learn a new language, earn points, and compete with others (or not, if you don't want to). It's fun and easy to set up—all you'll need is to register here and then use the existing uTalk app.

Of course, there's a bit more to it than that.

If you've been around for a while, then you'll probably have heard of the uTalk Junior Language Challenge. The uTalk JLC turned 15 last year and over the years, more than 25,000 students across the UK have learnt a new language (or three!) by taking part.

How the uTalk JLC—and now, the Games—differ from our regular subscription-based offering is fairly similar. With both, once you choose your language (any of 144!), you'll have access to 15* of the 60+ topics we offer. Registration costs a small fee (designed not to break the bank, but to help us keep this whole thing running smoothly) and you'll receive a username and password that you'll use to log in—so it's separate to your regular account. You'll still play all the same games and learn in the same way as you usually do, but all those points you accumulate? They'll show up on a leaderboard that you'll have access to, showing you where you rank compared to the rest of the participants in your country or region**.

You can also register as a group—be that a teacher registering a class, a manager registering their team, a group of friends registering together… In this case, you'll all learn the same language and have a separate leaderboard where you can see how you're getting on. Your group leader will also have access to a management page, where they can add new members—so if one friend is hesitant about joining, don't worry, they've got time!

Sound good? Well, we've changed a couple of things from our uTalk JLC base, just to sweeten the pot a little for you all.

First of all, we've opened up registration to anyone—and we mean anyone. Under 15s will need the permission of their parents or guardians (it's on the registration form) but no matter your age, no matter your location, you can come along and take part. The uTalk JLC is limited to primary-aged pupils in the UK but what's the point of that for this, when we're all in the same boat here?

Secondly, we're keeping the Games open until the end of July and, since 15 topics won't really tide some of you more voracious learners over until then, we're going to unlock a new topic or two for you each week. You'll get an email saying which topics have been unlocked but, if you prefer, you can also head over to our Facebook page and give it a like—we'll be announcing our unlocked topic(s) each week, as well as sharing our progress and asking you all to let us know how you've gotten on.

So, if after all that, you're still interested—click here to register! As soon as you've got your username and password, you can start earning points!

And, if you want to get an insider look at just how our app works to help you learn (and maybe get a leg up on your friends' scores!) then just keep reading!

*The initial 15 topics – Free Starter Words, Holiday, Numbers up to 20, Time, Body, Clothes, Colours, Calendar, Leisure, School, Animals, Fruit, Likes and Dislikes, Shopping Phrases, Short Phrases.

**Currently, only participants in England will be able to select a region—however, that may change, so keep checking back!
Using the uTalk app
Whether you've used the uTalk app or not, we thought it might be useful to give you all a quick rundown of how it works. Plus, we've added a few hints as to how you can learn more and reach those high scores!

Each topic teaches between 20 and 50 words and phrases, using an assortment of games. (If you've never used the app before and prefer a more hands-on approach to learning something new, go ahead and download it now and give it a try! The app itself is free and you'll have access to the Free Starter Words topic in every language.)

Every topic features the same six games, designed to get you speaking, listening, and learning without really realising it! Those six games are: Phrase Practice, Easy Game, Speaking Game, Hard Game, Memory Game, and Recall Game.

Phrase Practice
Okay, so maybe we misspoke—this isn't precisely a game. However, it is where you'd be best off starting!

Basically, Phrase Practice is a chance for you to spend some time with the vocabulary and phrases you'll be learning—before you get thrown headfirst into any of the games! It also gives you a chance to start associating the words with the images provided; this is an important part of uTalk's method, as it means we can get rid of your source language right from the get go.

On the left hand side, you'll see the image, the word in your new (target) language, and the word in your original (source) language. If the language you're learning is in a different script to your source language, for example, if you're learning Japanese from English, then you'll see the Japanese script, and a romanised version underneath.

When you scroll through this list, you'll hear each word or phrase in your target language, spoken by both a male and a female native speaker. You can then use the icons at the bottom to play around with what you're hearing and how you're learning.

The speaker on the left lets you play the sound again.

The snail (shockingly) slows the audio down.

The microphone lets you record yourself, so you can listen back and see how you sound. You can then compare this recording to the native speaker audio and decide to keep or discard it.

And the last icon lets you autoplay the list, so you don't even have to press anything! The words and phrases will cycle through automatically, playing both speakers' pronunciation before moving on.

Whenever you begin a new topic, we recommend you go through Phrase Practice at least once before moving onto any of the games—but you can practice the list as long as you'd like!
Easy Game
In the Easy Game, you see a random selection of four images from the topic in each round. You'll hear the pronunciation for each, then they're shuffled and you have to choose the correct one when the speaker says it again. Handily, in this game, you get the text at the bottom of the screen, so that gives you a little hint!

Speaking Game
In the Speaking Game, you'll see two different screens—the setup for the game, and then the game itself. The point of this game is to get you used to recording yourself and comparing your pronunciation with that of the native speaker.

That's why, initially, you'll see the screen below. There will be a selection of five images from the topic and, one-by-one, they'll be pulled to the bottom of the screen (with the text in the target language shown underneath). You'll hear the native speaker audio and you can either record immediately—by pressing the microphone icon—or you can tap the image to hear the audio again.

If you record one and you aren't satisfied, just tap the image to pull it back out of the line up and try again. Once you are happy, though, it's onto the game!
After the initial setup, the Speaking Game is a lot like the Easy Game—except shorter. You only have to complete five rounds and you'll be hearing your own voice the whole time, so hopefully it won't be too difficult!

Hard Game
The Hard Game, too, is a lot like the Easy Game, except for the fact that it's, well, harder.

Each round, you'll be faced with an increasing number of images and instead of matching one to the audio before you move on, you'll be tasked with matching almost all of them. You might find, too, that if you keep getting one wrong in earlier rounds—or if you got it wrong in other games—it'll come up here more often. That's because the app is designed to test you again on things you got wrong so that you can get them right!
Memory Game
Ah, our most well-received game!

Just kidding.

Lots of people have trouble with this game but it's worth the effort because it gets you thinking in your target language. That's why we love it! Basically, the first five rounds are all the same: you'll see two, then three, then four… all the way up to six images, and have to memorise where they are. After a few seconds—you'll see the timer go down at the bottom there—the images flip over, the audio plays, and you've got to find the right card!

So it can be tricky. But you'll be surprised how quickly you learn by playing this one!

Plus, after six cards, it turns into a timed version of the Hard Game, so you still have to be quick but don't have to precisely remember where everything is.

There's also a really quick hack to get full marks in this game: make sure you're not using your source language! If you're still translating the images to your source language to your target language, then it's just going to slow you down. Try your best to cut out that middle language and you'll find your score increases really quickly!
Recall Game
This is the sixth and final game and the one we don't expect people to go through and complete all in one go. Basically, you'll see the screen below—the image and your source language text beneath it—and then your job is just to record the word or phrase in your target language. Coming back to it as and when you remember words and phrases will

Once recorded, you'll hear the native speaker recording and then your own voice again, and you have to decide (tapping the tick or the cross) if you got it right.

This is the only game where, if you exit midway through, you'll keep your current score—so that you can come back to it as many times as you'd like.

And that's it! Once you've completed those six games, you've finished the whole topic—so why not go ahead and get started?
Why should you take part in the uTalk Language Games?
If you do decide to participate, you'll have the chance to learn at least 600 new words and phrases in your target language; we calculate that getting full marks in a topic takes, on average, around three hours, so it should keep you busy, too.

You'll also, like we said up at the top there, have the chance to learn more and more each week, compete or work with your friends, and check how you're doing versus your region, country, or team.

So, what are you waiting for?

Go ahead, join us and register for the uTalk Language Games!